Curse NFT: A New Era in Cryptoart Begins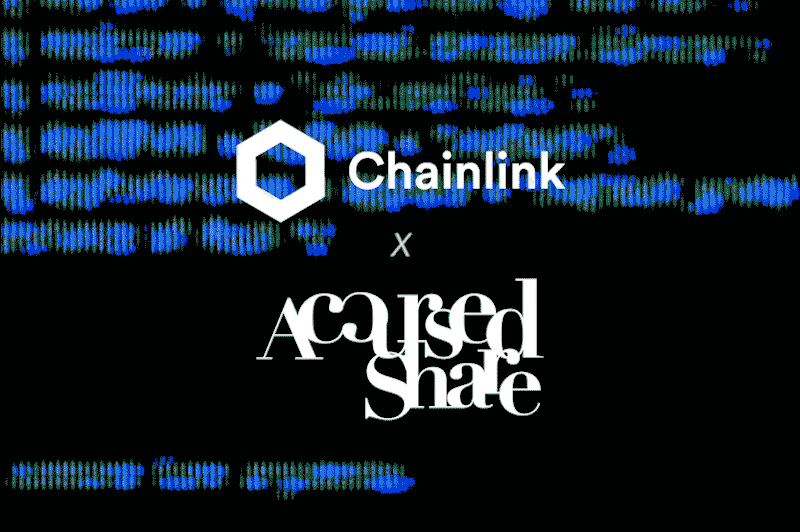 We are excited to announce that Accursed Share's first NFT project, Curse NFT, will soon be live on Ethereum. Curse NFT will be for auction at CurseNFT.com. The launch is made possible by technology collaborations from OpenSea, DeFi Network, Chainlink, and PROTAGON, enabling us to bring the project to life and make it available to the world.
Introducing Curse NFT
Accursed Share is a production studio that leverages emerging smart contract technology to push the boundaries of what is possible in cryptoart.

Curse NFT, Accursed Share's first project, introduces Krystall Schott, the uncredited #1 search result for "face" on Google. Without her knowledge, a backstage photo of her at New York Fashion Week 2016 took on a life of its own, and for years her face has been used and abused to the benefit of nobody but Condé Nast. Because of its algorithmic nature, Krystall's curse could not be lifted before NFTs. Now, it can only be lifted through one.

In collaboration with PROTAGON, the visual effects wizards for Marvel, Accursed Share is minting a hyperrealistic 3D image of Krystall that responds to the changing price of Ethereum and is traceable to her through the innovative Keeper and Oracle technology of Chainlink. As a unique work of art that can only be experienced and executed on the blockchain, Curse NFT will not just transfer ownership over an image, but have Krystall reclaim authorship over her narrative. 
To participate in the auction, 1,000 tickets will be made available for purchase, every one a collectible piece of NFT art. There will be three variations of the ticket art, each of a different rarity: 700 regular tickets, 250 uncommon tickets, and 50 rare tickets. 
In addition to allowing collectors to participate in the private auction of Curse NFT, these tickets will grant membership benefits, including exclusive access to a private Discord group for Accursed Shareholders, and access to future presales and live events.
If all tickets sell out before the auction begins, Accursed Share will allocate funds to create a streamlined and accessible web3 application, allowing artists to mint their own dynamic NFTs using Chainlink technology. This initial platform will enable artists to create NFTs similar in function to Curse NFT, wherein artists can use market prices to make 'living' NFTs (that are autonomous and change). 
This will be an open-sourced project and a first gift to the NFT community, to help bridge the gap between artists and developers and kick off an era of accessible NFT innovation.

Ticket holders will be able to burn their tickets in exchange for early access to this platform, allowing them to be among the first artists to create truly decentralized dynamic NFTs (like Curse NFT).
We plan to continue making it easier for artists of all levels to generate NFT art by using Chainlink to automate data-driven updates to their appearance and distribute potential rewards. Ultimately, this will test the boundaries of storytelling, value, and smart contract technology as they converge in a new artform.

"We're incredibly excited to be playing a role in the historical advancement of digital creative tools," stated John Connor, Co-Founder of Accursed Share. "Using Chainlink to abstract away the technical complexities will free up artists to do what they do best: generate art that transforms how we perceive our internal and external worlds."
For a more technical understanding of the technology involved, refer to the previous announcement from The DeFi Network.

About Chainlink
Chainlink is the industry standard oracle network for powering hybrid smart contracts. Chainlink Decentralized Oracle Networks provide developers with the largest collection of high-quality data sources and secure off-chain computations to expand the capabilities of smart contracts on any blockchain. Managed by a global, decentralized community, Chainlink currently secures billions of dollars in value for smart contracts across decentralized finance (DeFi), insurance, gaming, and other major industries.
Chainlink is trusted by hundreds of organizations, from global enterprises to projects at the forefront of the blockchain economy, to deliver definitive truth via secure, reliable oracle networks. To learn more about Chainlink, visit chain.link and subscribe to the Chainlink newsletter. To understand the full vision of the Chainlink Network, read the Chainlink 2.0 whitepaper. Want to discuss an integration? Talk to an expert.

Solutions | Docs | Twitter | Discord | Reddit | YouTube | Telegram | GitHub 
UPDATES
Sign up for updates, launches, exclusive content, and more. 
CURSE NFT
1,000 Auction Ticket NFTs drop in: